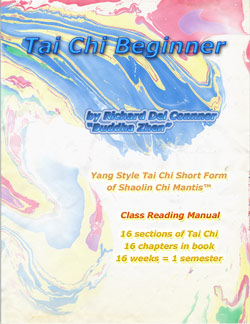 Although the original version of this Tai Chi Beginner book also included photos of all the basic requirements of Stances, Kicks, Punches, and... it was photocopied for 18 years without the pictures and other pages missing to make it affordable--and was sold to students who benefitted greatly from it.
"I've used this book as my primary teaching manual for every school location I've taught in since 1992. The extensive 'testing' has improved this book and proved its' perfection. When I taught without the book, students did not learn or achieve even 1/4 as much," states Buddha Zhen.
The book is divided into 16 sections for teaching the Yang Style Tai Chi Short Form in 16 weeks. 16 weeks is one semester of Shaolin Chi Mantis, Buddha Kung Fu, or Tai Chi Youth classes.
Begin your healthy life path with the Tai Chi Beginner Class Reading Manual published in 2012 in all the new ebook formats.
This is the OFFICIAL PDF full-size version for printing and putting into your 3-ring binder notebook.
$8.99